DAVID HEINO WITH FIRE BARN GALLERY ALUMNI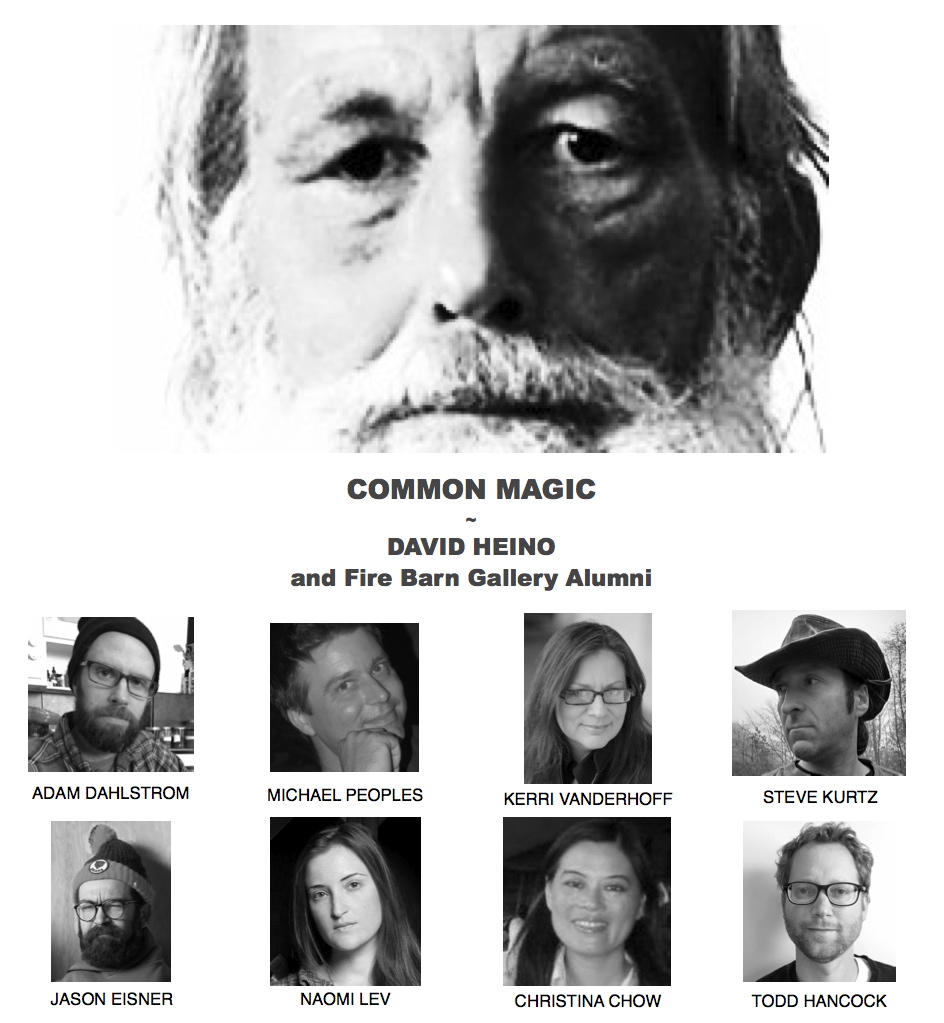 COMMON MAGIC - David Heino & Fire Barn Gallery alumni
What if you took nothing for granted?

What if everything from sand to sky was thought of as magic - something beyond the realm of everyday life?

This is the premise for Misty Field, an exciting and evocative piece in David Heino's upcoming show Common Magic, with simultaneous showings at the Fire Barn Gallery and Kendall College of Art and Design. Also on display will be other paintings and sculptures by the artist.

Misty Field is a collaborative conceptual art piece between David and eight other Fire Barn Gallery alumni. David has given the group a framework and an idea to interpret. Each artist is working on their own module that will fit together to create one single piece. Many of the artists have not met, and almost none have met David. All of their communication and development for the show was done online, some of which will be printed and put on display.



For 50 years David has put art ahead of many things in life, including at times Western creature comforts like a telephone, refrigeration and even electricity, living like an urban monk. Whether it's living in New York's East Village a block from the seminal rock club CBGB's, home of bands like The Ramones, Talking Heads and The Police, or living in his home state in Milwaukee Wisconsin, David's frequency and intensity of output remain consistent

David is one of those rare individuals that live almost completely in tune with their ideals. He makes no concessions, his art is his lifestyle.

The Fire Barn is proud to present this fascinating and extraordinary artist and his unflinching vision on Sep. 24th and 25th.

The Fire Barn Gallery is collaborating with Kendall College of Arts for this show - an installation will be created on site in the atrium of Kendall's Fountain Street location in GR, concurrent with the gallery exhibit in Grand Haven, on view Sep. 23 - Oct. 11.

Join us Sep. 24th in Grand Haven, 6-8pm for a presentation.

David will also give a presentation in Grand Rapids at Kendall, 17Fountain St. on Sep. 25th, 5-7pm.
Upcoming Events
The Fire Barn Gallery and the Grand Haven MSDDA are honored to host the Inisde Out program from the Detroit Institute of the Arts through October 31, 2015. Since 2010, the DIA has placed 800 reproductions of art from their collection on the streets of metro Detroit. This is the first year they have ventured outside of the city, and have chosen Grand Haven as a host for the project. Stay tuned to our website for tours and events promoting INSIDE OUT in GRAND HAVEN.

Fifteen reproductions from the collection of the DIA are on view in the streets of Grand Haven. Download a walking map here : http://www.dia.org/user_area/uploads/DIA_IO_2015_Grand%20Haven.pdf
Gallery director Chris Protas will be showing recent paintings at Kendall College from August 18th - September 5th, 2015.